Problem:
At Infostretch, we had been developing a lot of apps for clients in mobile web and native, which we were unable to show to the public. We needed a cutting edge app that could be used for demonstration of a new platform the team created.
Solution:
After many brainstorming sessions, we decided to build an IoT application for the healthcare industry, where the primary persona has to manage diabetes. The app is able to sync with the user's wearable fitness device, remind them of glucose reading times (by syncing with their connected home and flashing the lights) and gamify the user's progress towards a healthier lifestyle by comparing their glucuose levels to their caloric intake and current weight. I worked with our development team to define all the required specifications from page flows to high fidelity screens and interactions.
Process:
Competitive Analysis
One of the first steps I took for this project was to define the best possible method for logging and tracking a user's activity, diet and glucose levels. In general, mobile applications must reduce the ammount of data the user has to imput, so I performed a competitive analysis on the top diabetes management apps in the marketplace to understand the paradigms used.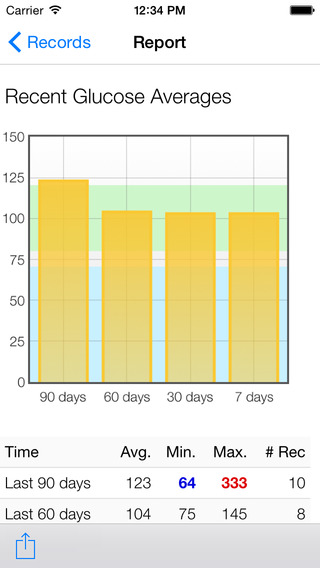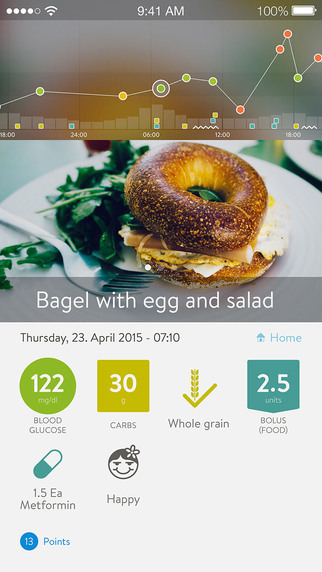 Left: Diabetes Pilot Pro - showcasing average glucose levels Right: Mysugr Logbook - showing historical data and relevant information to the user's meal choice, also showing elements of behavioral tracking.
Flow Chart
Below is the flow chart for logging food from either a restaurant setting or from home. The app included a US Government sponsored API that logs all foods' calories so they could be used as an affordance and be easily inputted by the user.
Sketching and rapid prototyping:
I took early mornings to sketch different layouts and features that I felt would be best suited for the user based on my research of the demographic. I was able to visualize the interactions from the layout and sketches I drew. Afterwards, I started creating screens in Photoshop with redline specifications to show to development based on iOS 9 guidelines.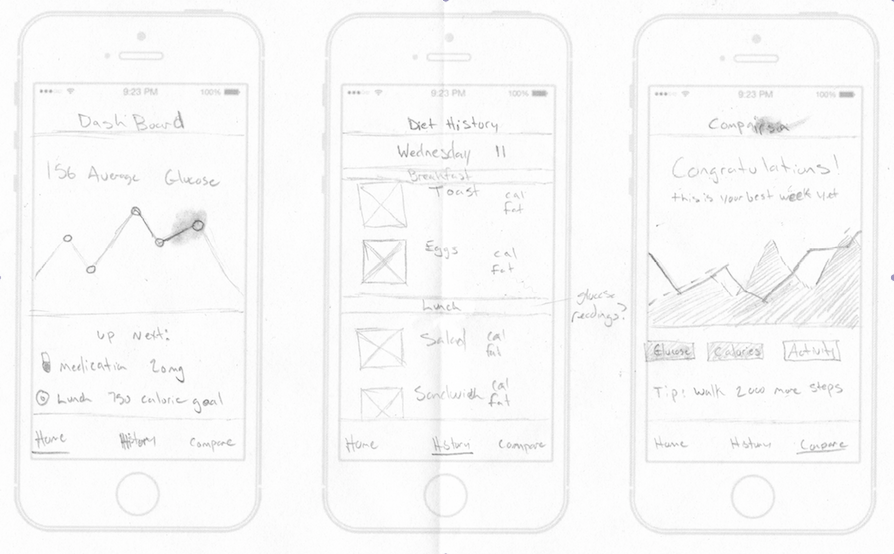 End Result:
The application has helped many customers understand Infostretch's value proposition. Potential customers appreciate the application's ease of use and how it is simple to understand how the application was built on top of a platform that could easily integrate within their company's development stack.