GlobeOne
Global Banking makes local community impact
Disclaimer: Due to non-disclosure agreements and the sensitive nature of this work, some details have been intentionally modified or omitted from this project.
Problem
GlobeOne is a brand new banking platform. When this application was being designed and developed the company was still a relatively small team that moved at a rapid pace. This app was the selling point for not only their future customers, but also the future partner banks they were courting as partners. It was crucial to keep the banks' considerations in mind when designing the app, as it would be used in some banks' networks as the primary app for their entire customer base.
The challenge was to create an app that educates financially illiterate consumers and tries to get them to make better financial decisions. The application also needed to be trustworthy and make the user feel at ease by showing them the benefit of helping their community through the bank's app.
Solution
During our analysis we identified and created an app that:
was simple, intuitive and, above all, trustworthy.
gave users a sense of control.
fostered better money management education.
encouraged better spending habits.
followed standard banking conventions - check balance, transfer money, send money.
was quick and simple to funnel the user through processes.
Process
Stakeholder Interviews
My colleague was on-site for two weeks of blueprinting, gathering all pertinent interviews and doing a needs assessment with the client. We would work in tandem during the day - in between meetings for knowledge transfer and I would work on the early wireframes.
Personas
After the stakeholder interviews and research we found that many low-income individuals had little to no trust of banking institutions. All user personas developed had a great deal of skepticism about the banks as many primary users mainly kept any and/or all monies they earned on hand (or at home) at all times.
Wireframing/visual design
Please see below for a comparison of the wireframe to the finished screens of GlobeOne's GoMoney Transfer Product feature: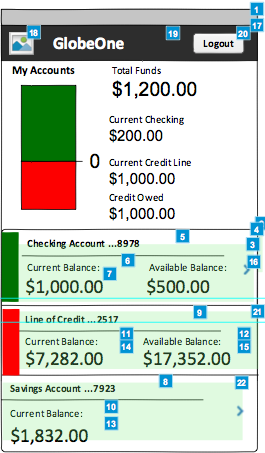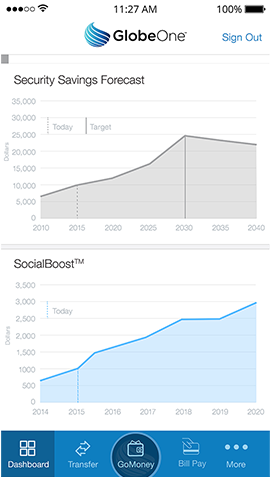 The User would typically start this flow after checking their account(s) balance. We chose a timeline chart because of the better visual affordance it gave the user to understand and engage in the product and their financial information. Additionally, the timeline chart could easily be built out in future versions to incorporate users' goals or other financial learning tools.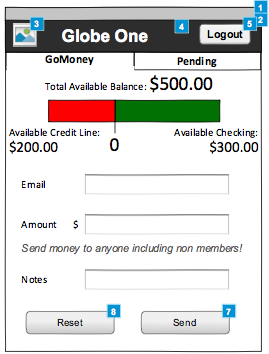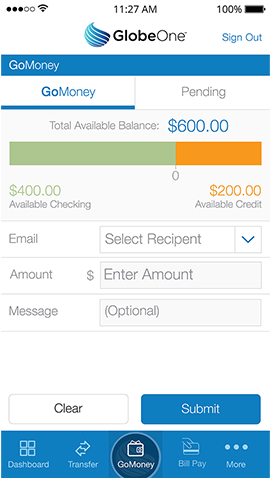 When the user enters the GoMoney flow, we chose to use a conventional bar graph and to only show the user their total available balance, not their entire balance. This kept the users' mental model clear as to how much money they can actually spend and not to overdraft their account(s).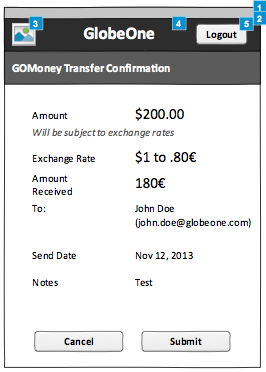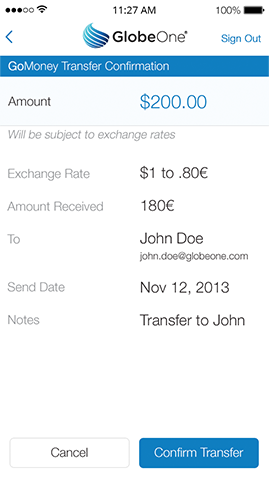 Next, users review their GoMoney transfer. The amount is highlighted with a different color contrast to help draw the users' eye.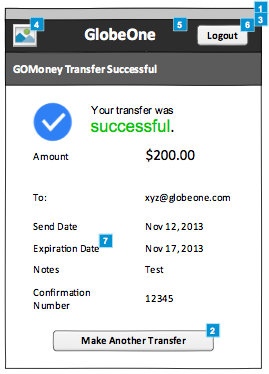 Lastly, the system status message appears and the user is able to navigate onto the next task within the app. You may notice the legal notice at the bottom of the high fidelity screen; that was necessary, from a legal perspective. In short, the step to complete a GoMoney transfer can be completed in as few as three clicks, starting from the GoMoney screen.
End result
The app has received positive feedback from users and is shown prominently on GlobeOne.com, where since the site launch, sign-ups for GlobeOne's services have increased by over 400%. The app was officially launched in Q4 of 2015 in the US and has since launched in Southeast Asian markets.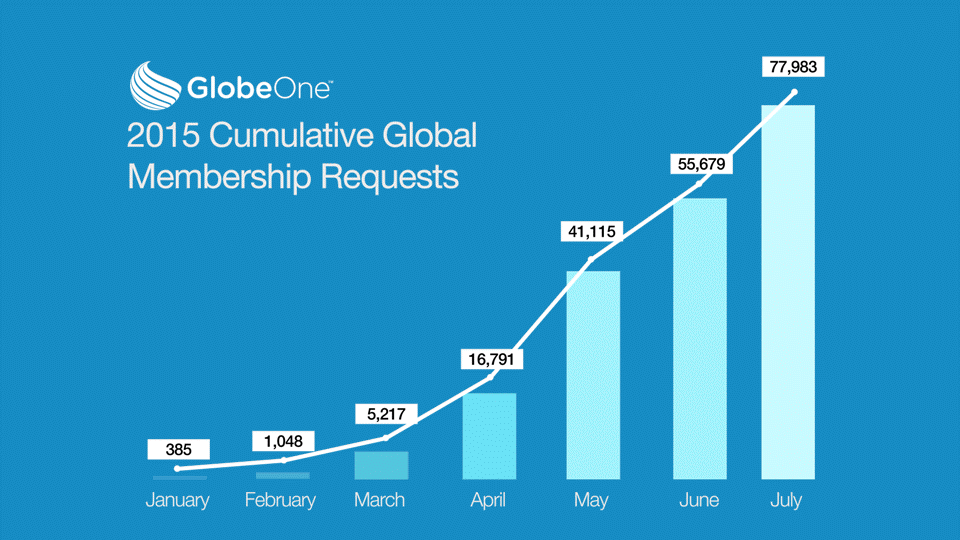 After the app was built the GlobeOne team asked me to help contribute to daily commits to their website, while staging and developing their new site. We switched from a static bootstrap site to developing a custom Wordpress site in that time and the site has been a primary driver for new sign-ups to the service.